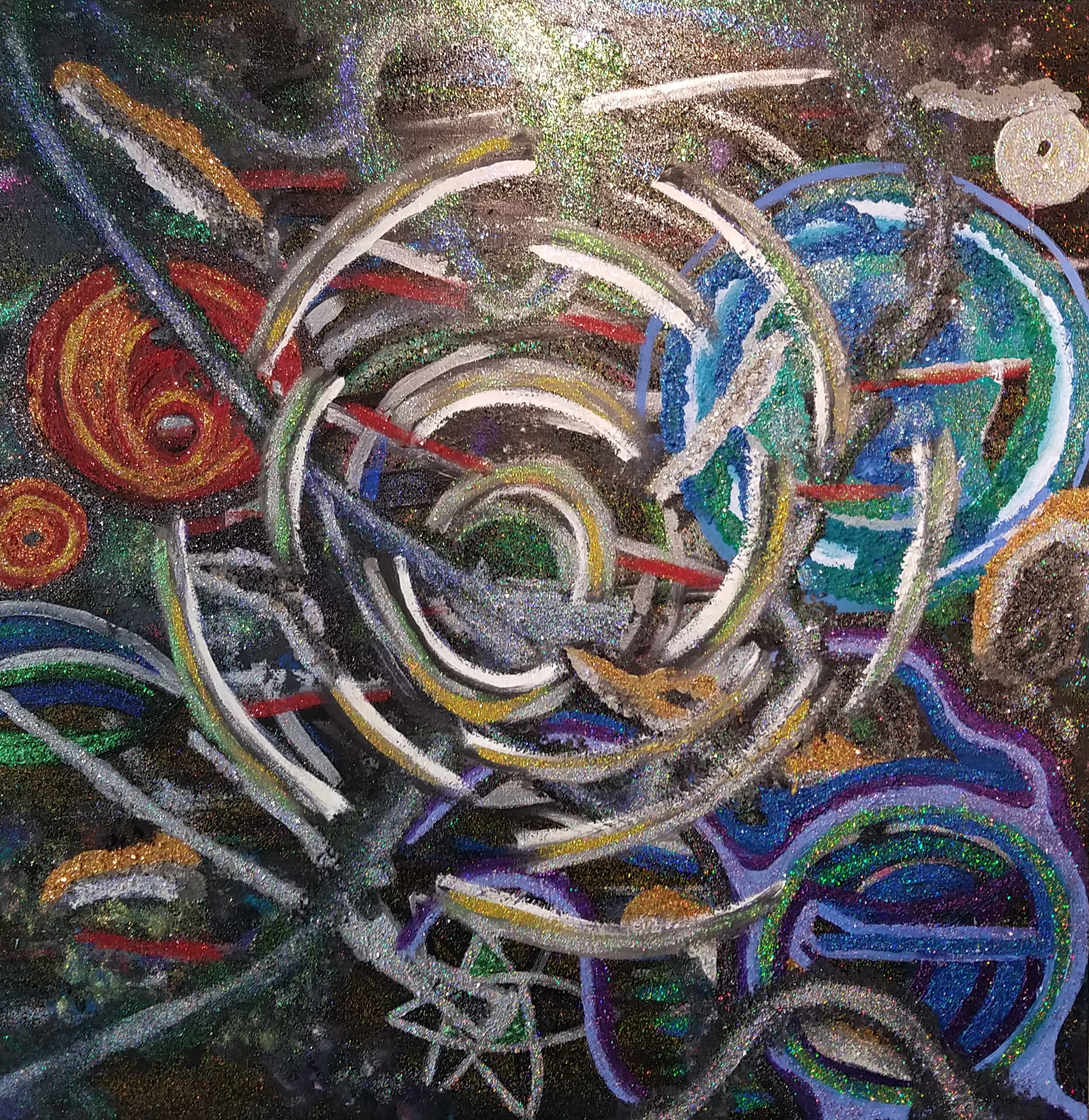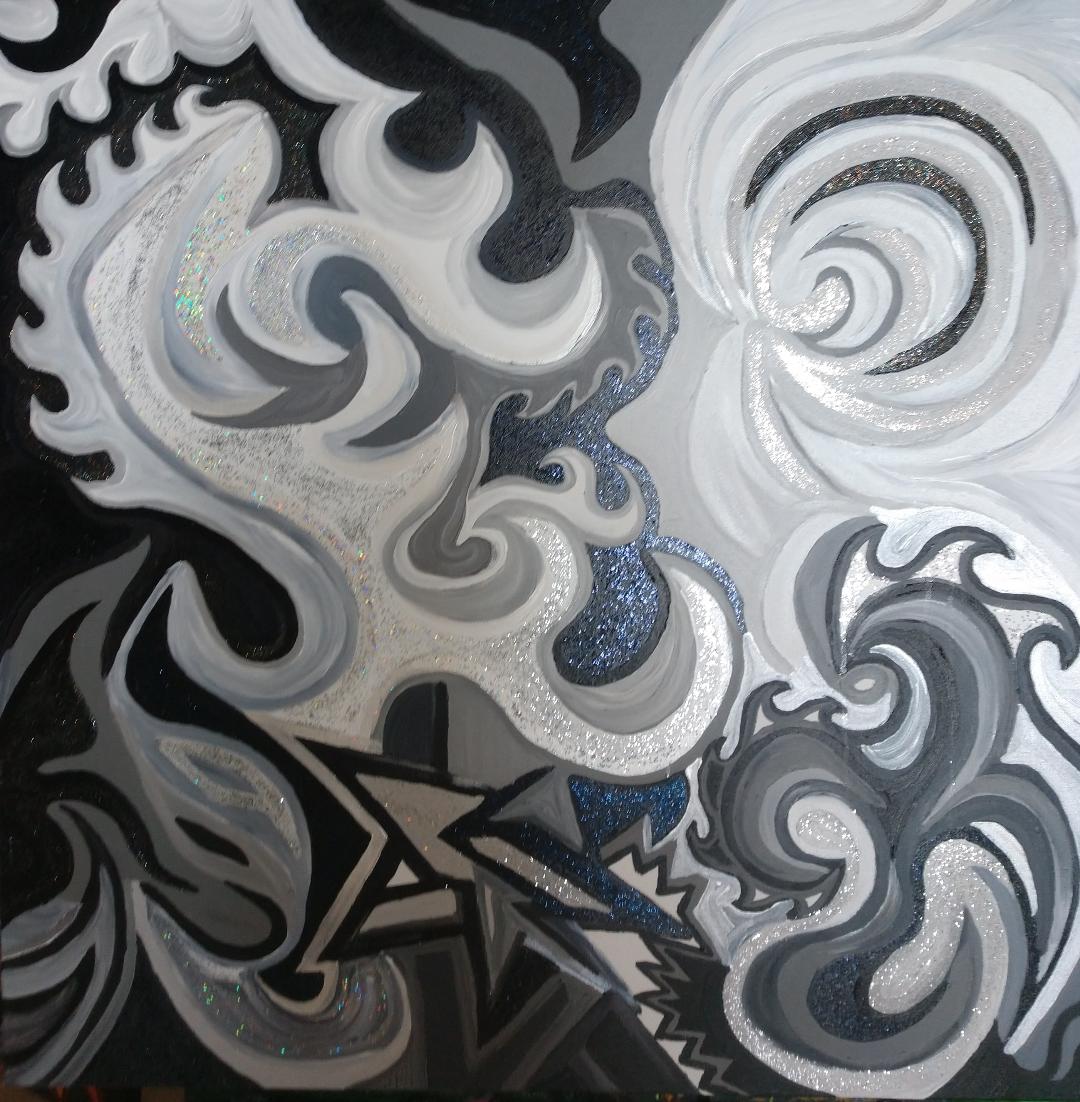 Artists's Statement
Painting is the conduit between my conscious and unconscious mind.
I paint what I am trying to understand.
I paint what I did not know I understood.
I paint what I am trying to make peace with.
I paint what I can't make peace with.
I paint what is wrong, maddening contradictions, and hypocrisy.
I paint notions, intangibles, abstract concepts, and emotions. passion, love, rage, addiction, conflict, dreams, nightmares, dimensions, and déjà vu.
Painting brings things to light that are part of our lives that we can't seem to put words to. While they are inspirational to look at, the paintings really generate epiphanies for me about how life works, and that is what I value.
The truth is there for all to see and I feel more like a conduit than an artist.  The bright and vibrant colors and endless layers contrast with the colors I surround myself with in life.
My art is not something that I envisioned beforehand and created. Creating art and discovering truth is something I truly enjoy doing.
My paintings fall into a new category of paintings called Abstract Symbolism. They are definitely abstract, and everything signifies something. Not only do the lines and objects they create mean something, the colors and the textures also hold meaning.
My art is not planned or preconceived.  I do not even know what I will paint when I start.  I am drawn to colors and textures and the strokes flow unconsciously.  As I get further into the painting in the weeks and months that they take to complete, I begin to understand what the work is about.
My art process and techniques push the envelope of what has been done in a variety of ways and is instantly recognizable as my work. But what is really unique is that I write the meanings and stories of the paintings down, so the viewer can understand what everything symbolizes and what I think it means.
Artist Bio
Although Grant Cleveland is an inspired artist, his most common characterization is that of a successful serial entrepreneur.   Really, what he considers himself to be is a creator.  He creates paintings, products, spaces, companies, software, and stories.
All of Cleveland's art is personal.  It is from the heart and attempts to make sense of the reality experienced in a powerful way by Cleveland. The paintings are colorful and symbolic. Most of the time he has no idea what he is about to paint.  He is drawn to colors and textures, and then it is as if another entity takes over, as he makes his bold strokes.  It is a process of his subconscious talking with his conscious mind.  Every painting tells a story and by the time the painting is done, he knows what it is about.  He tries to write them down and adheres them to the backs of the paintings.  He also has put a book together with selected pieces and their corresponding tales that is also attached.
His style is bold and instantly recognizable from the bright, vivid color, broad strokes, compelling subjects, and unique style.  Cleveland's pulsing and pounding energy and vitality shine through in every inspired painting. As in business, he is an innovator, in his artist endeavors and continues to push the envelope both with his accompanying stories and new artistic styles and methods.
His work has been in a number of galleries and in a variety of shows and exhibits, including 78th Street Studios in Cleveland, The NY ArtExpo, and Miami Art Spectrum.  Grant Cleveland is driven and is a visionary in many ways.  He is truly simultaneously a right brain/left brain individual and combines numbers, creativity, logic, color, beauty, the known and the unknown in ways never done before.
In addition to being a gifted artist, Cleveland has a mind for numbers and an ability to connect with consumers, proven through the immense popularity of the consumer products he designed, created and sold. Cleveland is known for creating themed terrariums and its products have been met with great success and are sold to retailers internationally and domestically including Hobby Lobby, Hot Topic, Tractor Supply, Lakeshore Learning, Cracker Barrel, Office Depot and many more.
Photography is another passion of Cleveland's, as is gardening.  He has combined the two by photographing dozens of botanical and other gardens in the USA and around the world.  His travels have taken him to London, Paris, Venice, Athens, Brussels, Bruges, and many more exotic places.
Cleveland attended John Carroll University in Cleveland, Ohio and earned degrees in both Accounting and Finance. Cleveland is a direct descendent of Grover Cleveland, the 22nd and 25th president of the United States.  This did not come with a trust fund, family compound, privilege, or connections.  Rather the Cleveland gift of intellect and insanity was given and received through DNA. He has five incredible children; three boys and two girls!